¤

What makes an actress a legend ?

 
---


Background
Eva Green was born in Paris, she attended a bilingual school hence her command of English. Her mum is a former actress. Her dad is French-Swedish  and was a dentist. Eva Green has a twin sister.
Favourite things
City : Paris. It's where I was born, it's where my heart is.
Book : My favourite book is actually a play: Miss Else, by Arthur Schnitzler. I learned lots of monologues from it in drama school, and I really love the characters: they're dark and funny.
Restaurant : St John's in London. The ingredients are really good, the food is simple – it's kind of bistro-y, English cuisine. Plus, the desserts are to die for.
Film : Cries And Whispers by Ingmar Bergman [a 1972 Swedish film]. It's just so beautiful. I think Bergman is a genius: his work is very sensitive.
Holiday destination : South Africa, definitely. I was there a year ago, near the Kruger National Park. It was amazing: you're there with all the animals, it makes you feel very alive.
Outfit on a man : I like a man to wear comfortable clothes – it's boring, but I love to be relaxed. I like wearing black leggings and t-shirts, something easy.
Way to relax : Walking or running. I can't lie down – I need to let it all out.
Alcoholic drink : Red wine. I love a good Bordeaux.
Piece of life advice : It sounds cheese-y, but don't worry too much. Life is short.
Thing about London : I love the restaurants – the average place is much better than it is in Paris. And the parks, it's so lovely to just walk for hours in such a green city. My favourite spot is Primrose Hill because there's lots of dogs there – I'm a big dog lover.
On screen idol : Bette Davis. She's my role model – she was fun and naughty.
Item you'd save from a burning building : My glasses – I'm very short sighted.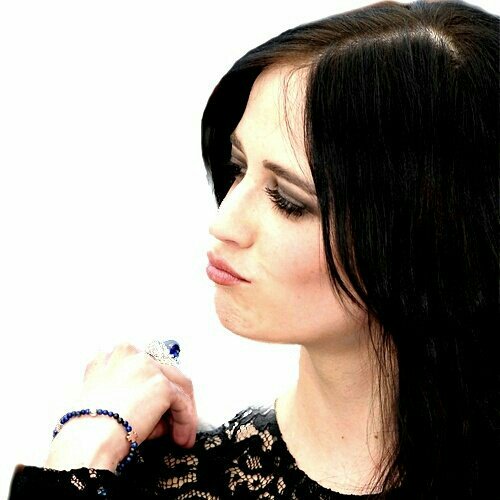 Career
It is good to clarify that Eva Green apart from Hollywood movies ( she was also in two well known sequels 300 and Sin City) chooses foreign independent projects from time to time, she is to star a Swedish movie alongside Alicia Vikander.
My name is GREEN… Eva GREEN

Vesper Lynd (Eva Green) and James Bond (Daniel Craig)
in Casino Royale (2006)
One of the best actresses in the world is Eva Green who stars TV series « Penny Dreadful » and was the star of other popular films such as « Dark Shadows« , « Kingdom of Heaven » or most recently « Miss Peregrine´s Home for peculiar children« . She is also the most enigmatic Bond girl ever, Vesper Lynd in a key James Bond flick « Casino Royale ».
Filmography
Vita & Virginia (2018) stars as Virginia Woolf
Dumbo (2018) stars as Colette
Based on a True Story (2017)
aka « D'apres une histoire vraie » stars as L.
Euphoria (2017) stars as Emilie
Miss Peregrine's Home for Peculiar Children (2016)
stars as Miss Alma LeFay Perigrine
300: Rise of an Empire (2014)
aka « 300: Battle of Artemisia » stars as Artemisia
Sin City: A Dame to Kill For (2014) stars as Ava Lord
The Salvation (2014) stars as Madelaine
Penny Dreadful (2014-2016) TV stars as Vanessa Ives
White Bird in a Blizzard (2014)
aka « White Bird » stars as Eve Connor
Dark Shadows (2012) stars as Angelique Bouchard
Camelot (2011) TV stars as Morgana Le Fay
Perfect Sense (2011) stars as Susan
Cracks (2011) stars as Miss G
Womb (2010) stars as Rebecca
Franklyn (2008) stars as Emilia Bryant/Sally
The Golden Compass (2007)
aka His Dark Materials: Northern Lights (UK) stars as Serafina Pekkala
Casino Royale (2006) stars as Vesper Lynd
Kingdom of Heaven (2005)
aka Reino de los cielos, El (Spain) stars as Sybilla
Arsene Lupin (2004)
aka Arsenio Lupin (Italy) stars as Clarisse de Dreux-Soubise
The Dreamers (2003) aka Sognatori, I (Italy) stars as Isabelle


---
AWARDS AND NOMINATIONS

Academy of Science Fiction, Fantasy & Horror Films, USA (2007)

Got nomination for Saturn Award
Best Supporting Actress
for Casino Royale (2006)

BAFTA Awards (2007)

WonBAFTA Rising Star Award
Best Supporting Actress
for Casino Royale (2006)

Chlotrudis Awards (2015)

Got nomination for Chlotrudis Award
Best Supporting Actress
for White Bird in a Blizzard (2014)

Critics' Choice Awards (2016)

Got nomination for Critics' Choice Award
Best Actress in a Drama Series
for Penny Dreadful (2014 & 2015) – TV
Got nomination for Critics' Choice TV Award
Best Actress in a Drama Series
for Penny Dreadful (2014) – TV

Empire Awards, UK (2007)

WonEmpire Award
Best Female Newcomer
for Casino Royale (2006)

European Film Awards (2004)

Got nomination for European Film Audience Award
Best Actress
for The Dreamers (2003)

Fangoria Chainsaw Awards (2017)

Got nomination for Chainsaw Award
Best TV Actress
for Penny Dreadful (2014 & 2016) – TV
Got nomination for Chainsaw Award
Best TV Actress
for Penny Dreadful (2014 & 2015) – TV
Got nomination for Chainsaw Award
Best TV Actress
for Penny Dreadful (2014) – TV

Gold Derby Awards (2016)

Got nomination for Gold Derby TV Award
Drama Lead Actress
for Penny Dreadful (2014) – TV

Golden Globes, USA (2016)

Got nomination for Golden Globe
Best Performance by an Actress in a Television Series – Drama
for Penny Dreadful (2014) – TV

Golden Schmoes Awards (2014)

Won Golden Schmoes
Best T&A of the Year
for Sin City: A Dame to Kill For (2014)
Got nomination for Golden Schmoes
Best T&A of the Year for Casino Royale (2006)

Guys' Choice Awards (2014)

Got nomination for Jean-Claude Gahd Dam Award
Best T&A of the Year
for Casino Royale (2006)
shared with Lauren Cohan

iHorror Awards (2016)

Got nomination for iHorror Award
Best Female Performance – Horror Series
for Penny Dreadful (2014) – TV
shared with Lauren Cohan

Irish Film and Television Awards (2007)

Got nomination for Audience Award
Best International Actress
for Casino Royale (2006)
shared with Lauren Cohan

Jupiter Award (2015)

Got nomination for Jupiter Award
Best International Actress
for Sin City : A Dame to Kill For (2014)
shared with Lauren Cohan

National Movie Awards, UK (2007)

Got nomination for National Movie Award
Best Performance by a Female
for Casino Royale (2006)
shared with Lauren Cohan

Satellite Awards (2015)

Got nomination for Satellite Award
Actress in a Series, Drama
for Penny Dreadful (2014) – TV
shared with Lauren Cohan

Teen Choice Awards (2005)

Got nomination for Teen Choice Award
Choice Movie Love Scene
for Kingdom of Heaven (2005)
shared with Orlando Bloom