It's been a year since we last saw Eva Green's Vanessa Ives, as the character swore off religion after years of shielding herself in it on Penny Dreadful. In the trailer for season 3 of Showtime's gothic horror show, the talented and haunted witch deals with a different face of evil with the help of Josh Hartnett's Ethan Chandler and Timothy Dalton's Sir Murray.
Last Thursday, a new trailer for the show's upcoming season was posted online, featuring bits and pieces of what to expect from our return to this creepy tale of 19th century London and America this time around. By the end of season 2, Hartnett's character, also a werewolf, was taken back home to New Mexico, but it was clear he wouldn't last that long there and would be going back to London to help Vanessa in her new fight against evil.
It seems the end of the world is near in season 3 of Penny Dreadful, as we discover another figure from Vanessa's past who's trying to fetch her soul and talents for itself as there's someone (or something) else that has been haunting her « since the dawn of time. » As it has happened with the vampires and the dark witches in previous seasons, this figure will also attempt to spread evil on Earth — and while Vanessa's in great danger, at the same time she's also the last hope for humanity.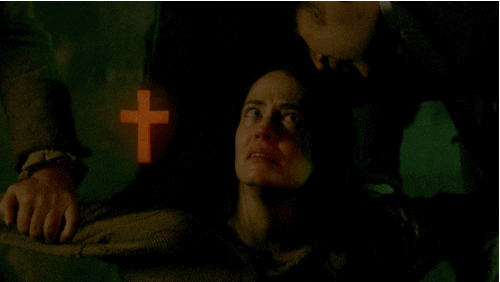 In the trailer, we get to see Vanessa locked up in an insane asylum, drawing things on the ground, while those concerned for her (namely Ethan and sir Malcolm) try their best to return to where she is.
According to Slash Film, some of the new cast members for the upcoming season include Wes Studi as « an intense, enigmatic Native American with a deep connection to Ethan, » as well as Shazad Latif in the role of the classic horror character, Dr. Henry Jekyll.
The Penny Dreadful season 3 will premiere on Showtime on May 1st.
Those in the UK will have to wait a little longer for the return of Showtime's gleefully dark horror series, as it's due to drop via Sky Atlantic a few days later on May 3.
An erotically-charged, profoundly unsettling new saga, PENNY DREADFUL completely reinvents literature's most iconic and terrifying characters. Dorian Gray, Victor Frankenstein and timeless figures from Dracula join a core of original characters in a dark and brutal quest to save a soul — even as they grapple with their own monstrous temptations.