What a tweet! Eva Green transforms into bird in first trailer for Miss Peregrine's Home For Peculiar Children

It is the book that stole the hearts of a whole generation of children.
And it looks like Eva Green assuredly quirky performance will ensure Miss Peregrine's Home For Peculiar Children will find a whole new audience if the debut trailer for the forthcoming Tim Burton adaptation is any guide.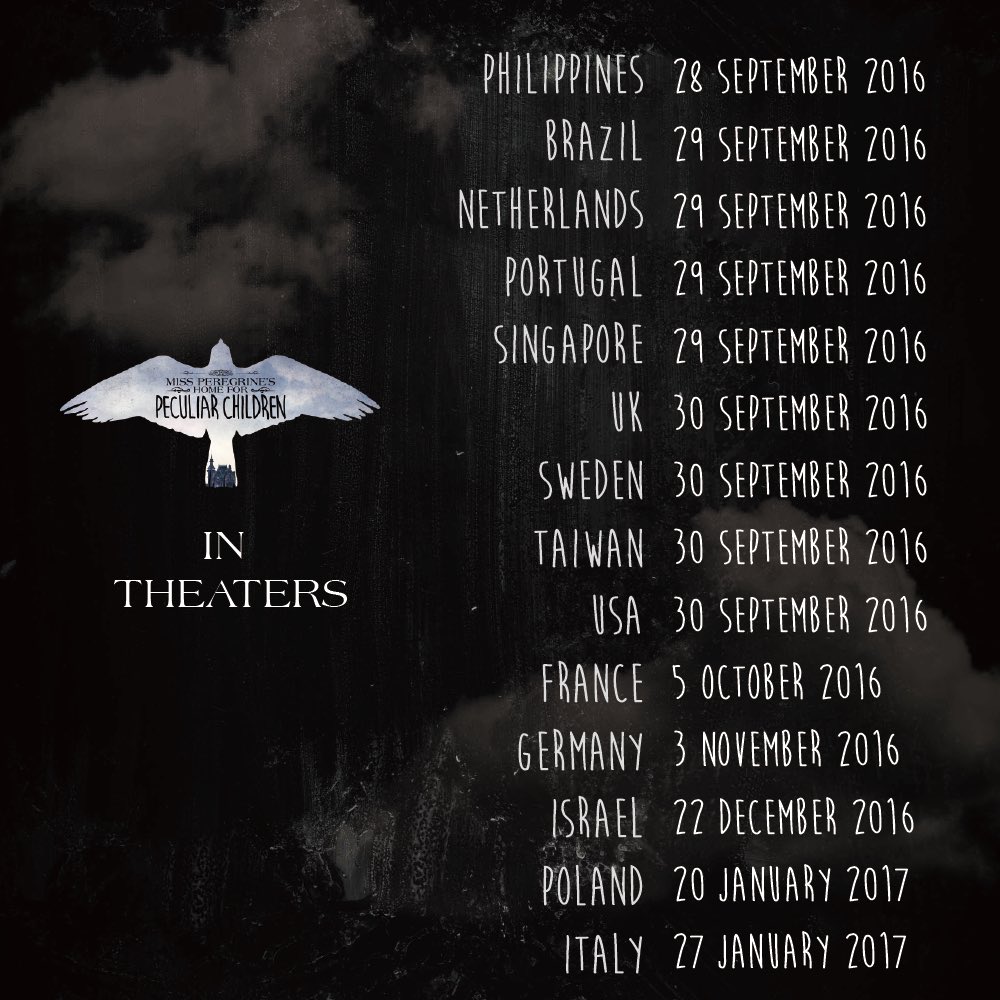 In perhaps the most memorable moment in the trailer her bizarre, but appropriately named, character transforms into a bird then flies into the screen as she displays her own unique ability.
---

Big bird: Eva Green transforms into bird in the debut trailer for Miss Peregrine's Home For Peculiar Children
---
She makes her dramatic transformation after asking Asa Butterfield's character Jake to protect the youngsters under her tutelage from the horrible creatures who are out to destroy them.
Miss Peregrine tells him, 'Look after them Jake,' then makes her escape.
In a world where children can become invisible at will or perform amazing feats of strength, the recently orphaned boy seems completely out of place.
However it turns out he has a pressing mission – to serves as a guardian against the forces of evil hellbent on annihilating the unusual orphanage and its charges.
---

Spitting feathers: She decides to make her dramatic metamorphosis in front of new boy Jake
---
 What a tweet: Viewers get to see her completely transform thanks to the magic of CGI
---
Aviary impressive feat: And she is then shown flying directly into the camera and away
---
They then dive off a rowing boat and into the water below, eventually making their way inside a derelict vessel, which she empties inside by blowing out an enormous amount of air.
Explaining what she did, she says: 'Air – it's my peculiarity. If I show you the rest you have to promise not to run away.'
Jacob is then shown making his way to a grand old country house, where he gets to meet the Miss Peregrine for the first time.
---
Water you doing: The trailer kicks off with Asa Butterfield's character Jake leaping into a lake with a girl
---
 Getting on swimmingly: She takes Jake into the hull of an abandoned old ship
---
A bad case of wind: She is then shown expelling huge amounts of air from her mouth
---
A titanic achievement: She manages to force all of the sea water outside so the can explore

---
Hot air? She explains to her new pal Jake that her peculiarity is the ability to control wind
---
However it seems she was expecting him, as she says: 'Right on time… delighted to meet you.'
He is then given a tour of the grounds, where he sees an invisible boy playing football and some bizarre identical twins fighting over a teddy, which Eva's character solves by ripping the bear in two.
Another scene shows a girl eating her dinner using a mouth in the back of her head, and another youngster shows her ability to
Miss Peregrine tells Jake: 'Because our abilities don't fit with the outside world, we live in places like this, where noone can find us.'

No expense spared: Jake ends up being taken to a sprawling country mansion that serves as the orphange
---
 Bird brain: The boy is shocked when the enigmatic Miss Peregrine says she had been expecting him 
---
Making him an offer he can't refuse: Jake would be a mug to turn down the chance to live with Eva
---

Less teeth than Nobby Stiles: An invisible boy is shown running around with a vintage football
---
Unbearable: She rips a teddy in half when these twins squabble over it
---
But they are being pursued by the evil Mr Barron, played by Pulp Fiction favourite Samuel L. Jackson, who is sending his hollowgast monsters to exterminate peculiar people.
And while he seems just a normal boy, it turns out Jake is the only one with a unique ability that allows him to take on his minions.
The action ends on a thrilling note, with a demonic character shown about to attack Jake, who purposefully brandishes a crossbow in its general direction.
It is the latest film by Tim Burton, who brings plenty of his trademark off-kilter style to the table.
Wonderful sea views: The property must be worth an absolute fortune
---
Floater: Jake's friend has all manner of abilities thanks to her peculiarity 
Awkward: The conversation is faltering as everyone enjoys a slap-up feast
---
Bad table manners: But another young pupil brightens things up by eating her foot through a mouth in the back of her head
---
However fans of the popular novel will be hoping he does a better job than on his last literary project Alice In Wonderland, which was met with mediocre reviews.
The script is by English scribe Jane Goldman, who has penned the likes of Stardust and Kick-Ass in the past.
In addition, she is better known to many as the wife of broadcaster Jonathan Ross.
Unusually for a Tim Burton film, Danny Elfman has not contributed the score, with Mike Higham and Matthew Margeson credited instead.
Miss Peregrine's Home For Peculiar Children is due to be released by 20th Century Fox on September 30.
---

Pulp friction: Samuel L Jackson's evil character Mr Barron wants to exterminate the peculiar people
---
Motley crew: Jake will have to hope his pitchfork proves a serviceable weapon as he protects the children
Speaking in tongues: The trailer ends on a dramatic note when a hollowgast monster arrives at the house

He can see you: Jake has a unique ability which allows him to tackle the evil creatures
---
From : http://www.dailymail.co.uk/
All images © 20th Century Fox
---
Français cliquez